Meals on Wheels for Pets Nassau
Research has proven the health benefits of having a pet, especially for those people who are sick or alone. Oftentimes, these pets are the only "family" that homebound seniors have.
Several Meals on Wheels (MOW) programs (including Nassau County, Florida) had reported that some seniors were sharing their own food with their pets. This practice is unsafe and unhealthy for both the people and their pets.
Created in response to the efforts of the Meals on Wheels Association of America "We All Love Our Pets" (WALOP) initiative, our program provides nutritious pet food for the companion animals of local homebound seniors who receive Meals on Wheels.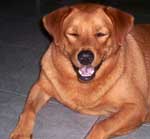 The first MOW4PetsNassau delivery was July 27, 2009. The number of pets served changes dependent upon the number of clients currently enrolled in the MOW program. We have served as many as 120 and as few as 65 pets.
Keeping companion animals well fed and healthy is the mission of Meals on Wheels for Pets Nassau.
Help provide food for the pets we serve by purchasing your pet food from BOGO Bowl. Learn more about BOGO Bowl, their quality pet food, and their buy-one give-one program.
Help earn money for Meals on Wheels for Pets! Visit iGive.com to search for products. Compare prices and donation percentages at iGive stores.